Laurence Antignac
Biography
Laurence Antignac est une artiste peintre française d'origine vietnamienne. Son medium est la peinture à l'huile. Dans un style intimiste aux frontières du figuratif et de l'abstrait, Laurence explore les relations humaines et la féminité au travers de moments d'intimité empreints de sensibilité et de force.
Accueillant la tension avec l'œuvre comme l'essence de son processus créatif, elle vit pour cette confrontation et l'expérience de sa résolution lorsque touche, couleurs, textures et émotions se synchronisent en une œuvre qui produit sens.
Fascinated by the tension between painter's thought process and painting's own power, I expect the accident and peace with the synchronisation of colours, physicality of the paint, gesture, and emotions. Creativity is my relentless quest for wholeness for each single painting. When this sensation happens,  it's a one of a kind experience of body to soul alignment alike yoga or meditation. In 2022, I've been exploring a path between figuration and abstraction to reach a more complex interaction with the viewer. I'm starting from a deliberate geometrical structure from the sketching, loosing up or affirming meaningful lines along the work. The structure becomes a container for emotions to develop into an instinctive narrative.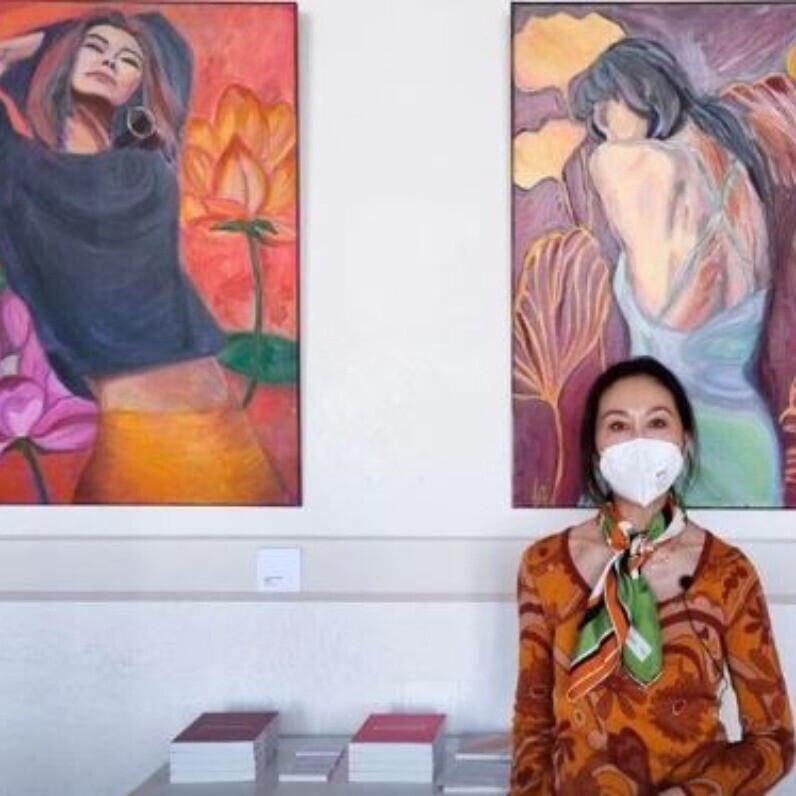 The artist at work
---
4 artworks
Artistic domains : Painting (4)